I'm not sure I can call today a success for my kids as my 2 youngest went to bed screaming for "snack". However, there were many great successes of the day and I'll take what I can get.
My baby of 2 years refused to eat dinner, aside from the grapes. No chicken with ranch dip. No sweet potato fries. No green beans with bacon. Nada. Instead he went upstairs and put himself in bed, for a good 1/2 hour, on protest. Ah, so be it. However, he ate and ate and ate breakfast this morning as he pulled this "no dinner" trick the night before as well. It was a delicious butternut squash and coconut milk bake that was fantastic. He actually ate 3 helpings of it! We'll be making more of this; however, I'll make sure to puree the squash more so there aren't any chunks left in it which he hated. He also wasn't a fan of the crushed pecans on top. I'm guessing he'll load up on breakfast tomorrow again.
My 4 year old ate 95% of his dinner but got down to play and right before bed wanted the steak that I had offered him that he refused, so he could play with his dinosaurs. Thus I don't see this as a huge failure as he would have probably done this no matter what dinner we fed him as he can't sit still long enough to get full. He did clear almost all his plate so over all that is a success.
My 6 year old is sick with pink eye so ate about 1/2 her dinner. I figure that is pretty good since she's just not feeling well. She was not a fan of the sweet potato fries that I made, but used to love the frozen ones we cooked from a bag. I think those had more oil on them.
My day was a huge success in my book. My 4 year old woke up at 5:45 with a bloody nose and I didn't go back to sleep so I was up early. I ate a good breakfast around 7:30 of an omelet with lots of veggies and bacon. I tried my coffee with coconut milk--- no go. I actually went without my coffee (I'm a starbucks faithful goldcard carrier). Plus we had a yummy squash bake so I wasn't even hungry for lunch, AT ALL, until 12:30. Usually I'm ready for a snack around 10:30ish or ready for lunch by 11:30. I ate leftover acorn squash/pork/apple yumminess from the previous night's dinner and was full. The big success factor for me is that there were 3-4 chances for me to eat free yummy cookies at work and I was able to not grab them and instead grab a green apple. I never do that. I'm the first to grab one and justify 2 somehow like "I'll save that for later" and end up eating them on the way back to my desk.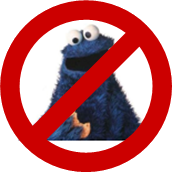 Then around 2:30 I started eating my apple, more out of habit than the fact that I was hungry. I'm used to my 2pm slump and "need" for a snack. I ate a few bites and ended up throwing it away b/c I just wasn't hungry. WHAT? This is awesome. I started getting hungry around 5:30 so I had a hand full of macadamia nuts and cashews. Then worked on dinner. By the time I ate our wonderful dinner of Fillet Mignon with horse radish salsa, green beans and bacon, sweet potato fries I was ready to eat. I ate my dinner and am so pleasantly full I didn't even miss dessert, at all!
It's 9:15pm and I'm exhausted from being up early with the kiddos, but I made it through day 3 with no slip ups. Even in the face of the cookie monster! YEAH ME:)
I bet my 2 year old will love breakfast tomorrow. We are having more of that squash bake, and making almond flour pancakes with fruit and bacon.
Then again, hunger is the best seasoning.